Video Call Friends & Family Online - 100% Free 😃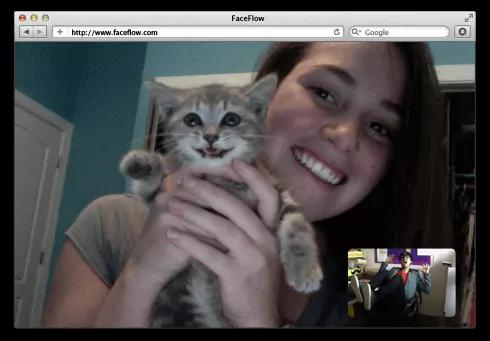 SIGN UP NOW!
Have fun with your friends and loved ones with FaceFlow's free video calls. There's no download required! All you have to do is sign up to the web platform and begin enjoying high-quality and seamless online video calling.
With FaceFlow, you are able to have a conference video chat, where you'll be able to video call with many of your friends at a time, absolutely free of charge. If your friends are not registered as FaceFlow members, you can spread the good news to them and quickly start a video call with them by sharing your FaceFlow "video call link". By clicking on this link, your friends will be able to visit the FaceFlow page and engage in a video chat with you. Simple, right?
Test the quality for yourself and see your friends' faces as if you were standing face to face with them while engaging in your live video calls.
You can use a random chat system like "Chatroulette" to meet entirely new people. Try FaceFlow today. It only takes a few seconds to sign up!
Features
Below are a few features that you stand to benefit from on the FaceFlow platform:
1 on 1 video calls
With 1-on-1 HD video calls, you'll be able to have a business meeting or an intimate session with that person who means the most to you or that loved one.
Privacy guaranteed
With end-to-end encryption and other measures taken to ensure online safety, you can rest assured that your video chat network and any information that you might share through FaceFlow is completely secure. We have taken top precautions to ensure the safety of our subscribers and they'll be able to enjoy the full benefits that these measures provide.
Group video calls
You also have the ability to make group or conference calls, regardless of how many people you want to add to the group. As long as your intended participants have supported browsers and are active users of the service, you'll be able to add them to your group and have a lively group discussion. Whether it's a board meeting, a meeting of your various study group members for an assignment or a simple hangout with a number of your closest friends where you can just chat and capture the moment, you can count on FaceFlow to actively meet your group chat needs.
Text chat with emojis
FaceFlow also has a text chat option. Here, you'll be able to send instant messages to those on your list (or even strangers if you're looking to meet new people) and get a quick reply, just as it is with the many social networks that are available online today. You'll even be able to throw in a few emojis to capture your present mood and add a little extra layer of flavor into your conversation.
File and photo sharing
If you're looking for an avenue to share pictures and files with your friends, it is possible on FaceFlow. The platform makes seamless and speedy file-sharing possible, and you won't have to pay a dime. You can also rest assured of the safety of your shared documents and rely on the fact that they won't be intercepted while in transit. This means that even if the document is a confidential and 'top secret' type of file, you're well secured and you don't have a thing to worry about.
Awesome "opt-in" features
FaceFlow's "opt-in" features allow you the ability to meet new people. Examples of these features on FaceFlow are access to public chat rooms, starting random chats and random video calls with strangers (where you get paired with a random stranger for a chat session and see where things go from there), the "Browse Members" section (where you get to select a random person based on your personal preferences), and user profiles (you get to view a person's profile and if you're interested in the person, you're free to start a chat).
Moderated chat rooms
This feature takes you to a private and highly structured chat room that also has an administrator. It is nothing short of awesome, especially if you have a structured meeting to attend and you're going to need a platform to make serious discussions. Interest-based chat rooms are also a great way to meet new people who share similar interests.
User verification features
If you're looking to meet new people and you receive friend requests from strangers online, the "verified" badges show up on the friend request for you to be able to recognize each user.
Full-screen mode
If you'll like to have a video chat and enhance your screen to show even more details, all you have to do is turn on the full-screen mode and view a larger motion picture of the person you're chatting with. For that chat with a loved one, enhancing the full-screen mode won't be such a bad idea.
Guest chat link
You can send a chat link to your friends who are not yet signed up to FaceFlow to invite them to the platform for a live chat session. Easy to use and navigate, here is a high chance that your guest will fall in love with the platform and even proceed to join from there.
Fully web-based, no download required
FaceFlow is fully web-based and doesn't require you to download or install any app. This way, we have been able to help our users save data and memory space on their devices. All you need to do is sign in and get chatting.
Stay protected from spam with block and ignore features
If you constantly get disturbing and annoying messages from someone, all you have to do is block or ignore the person. The service will understand your motive and restrict the person from sending you any message going forward.
Looks great on both phones and desktop computer
With high-quality (HD) images and video enhancement (thanks to WebRTC), you can rest assured that you won't be getting blurry or pixilated images and videos during your live video calls on FaceFlow.
Video chat is available on Chrome, Firefox, Opera browsers
Our online video call option is supported on Chrome, Firefox and Opera browsers. Therefore, whatever device you're using, you'll be able to readily access our services, totally free.
SIGN UP NOW!