High Quality Video Conferencing, Free & Simple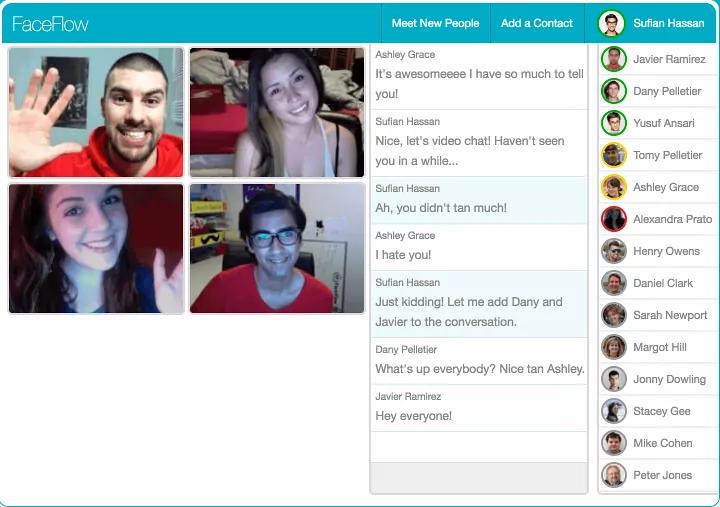 SIGN UP NOW!
FaceFlow is a powerful web-based application that offers video chat and web conferencing for FREE. Designed for both individual users and businesses, it provides a platform that is simple to use, yet robust in its functionality. With video conferencing and a myriad of additional features, FaceFlow makes it easy to connect with colleagues, friends, family, and even to meet new people, making it an indispensable tool for communication.
With features such as your contact list, 4-way video conferencing, instant messaging, file sending, photo sharing, and multiplayer games, FaceFlow takes web conferencing to a new level. This comprehensive suite of tools ensures that you can connect in the way that suits you best, whether it's a face-to-face conversation or a shared gaming experience. What's more, FaceFlow offers a complete communication and online entertainment service at a fraction of the cost of other similar programs (in fact, FaceFlow was the first application of its kind to be free).
Designed with the user in mind, FaceFlow is versatile and customizable. With FaceFlow, you have complete control and the flexibility to connect easily with anyone who can open a web browser and has an active internet connection. There are no hidden costs or restrictive requirements; all you need is a compatible device. This makes it accessible to virtually anyone, regardless of their technical skills or location. Furthermore, no download is required, streamlining the process and saving valuable time.
The savings extend beyond just the financial aspect; by choosing FaceFlow, you are also saving valuable time and resources. Unlike other platforms that may require complicated setups or costly subscriptions, FaceFlow offers its services completely free of charge.
Try a free video conference on FaceFlow now, and experience the difference for yourself. Not only does it provide unparalleled convenience and versatility, but it also represents a revolution in how we communicate and interact online. FaceFlow is more than just a tool; it's a way to bring people closer together, regardless of distance.
SIGN UP NOW!